Wood Fired Sauna Heater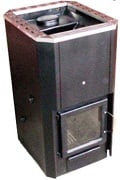 For those that have experienced a true outdoor sauna heated by a wood fired sauna heater, you will know what the difference is all about. It is said by the Finnish that only a wood fired sauna is a true sauna? This statement may be biased since the original Finnish sauna was heated with an open fire that resembled more of a smoke room than a modern-day sauna as no chimney was used.
Today the wood fired sauna has evolved to a state-of-the-art sauna room using clean burning wood heaters that are similar in technology to what you would find in a modern home. The wood burning sauna heater is designed of heavy gauge steel or stainless steel to withstand the changing environment that exists in a sauna room. Dual burn chambers help to ensure a clean burn with minimal smoke. Typically, most wood sauna heaters will offer a top chimney vent or a rear vent to allow multiple positions.
The main advantage that a wood fired sauna heater as compared to that of an electric heater is the large heating capacity. Wood sauna heaters are not regulated by high temperature limits that you will find on all certified electric sauna heaters. The capacity for heat is only limited by the amount of wood you can fit in the fire box. For this reason a wood fired sauna can be hot! Much hotter than and electric saunas. A larger reservoir of rocks will allow sauna bathers to capture that heat energy and allow bathers to add large amounts of water before the rocks will diminish their heat.
There are two types of wood fired sauna heaters. The first type has the fire box and chimney outside the wall of the sauna and a secondary rock chamber is inside the sauna. Wood is loaded outside the sauna room. The advantage of this style of wood sauna stove is that there is less internal space requires since part of the fire box is outside the Wood Fired sauna heater, however because it is located outdoors it will typically rust quicker as it has no protection from the elements. Also, bathers must exist the sauna room to refill the wood or check on the fire.

The second type of wood fired sauna heater is one that is located inside the sauna room and contains the fire box under the rock chamber. This type of heater usually also has a glass door that will provide a warm glowing light for the interior as well as allow bathers to see the condition of the fire without having to leave the sauna to check it. Part of the chimney is inside the sauna room, this provides added heat as the hot smoke heats the chimney as it rises. The disadvantage of this type of sauna heater is that you will need a trough-wall- chimney kit that can add to the cost.
What type of wood to use? When operating a wood fired sauna stove you will want to find a wood that has been properly dried, so it burns clean. Use a local wood that is indigenous to the area so you can easily keep a good stock. Typically, it is recommended to use a hard wood such as oak, birch, ash, however any good dried wood will do including pine and spruce. Once you have found a good wood supply it is recommended to stick with that wood as you will quickly learn how to control the fire and temperature of your sauna stove. If you change wood types you will find that the amount of wood and fire temperature will change and you will have to readjust to find the correct temperature/wood mix.
If you are fortunate enough to have a location that allows outdoor fires such as a cottage or country house, then I highly suggest you look at a wood fired sauna option. While it may take a few extra minutes to start the fire, the experience is worth it!