Electric Sauna Heaters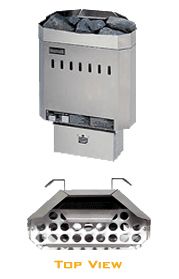 Our electric sauna heaters are manufactured in North America. We use Special Surgical Stainless Steel both inside and outside to deliver long-term satisfaction to our customers, (no pre-painted steel used here!). Did you know different grades of sauna heating elements are offered by different manufacturers? We use only the very best elements. More expensive? Yes, slightly, but the benefits are worth it. Therefore all our sauna heaters carry a lifetime warranty!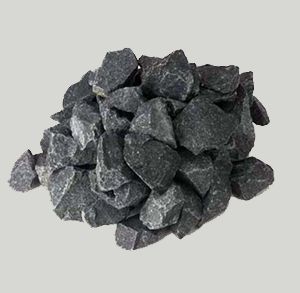 Our electric sauna heaters are shipped with special sauna rocks that are designed to store the heat. Their large surface area, provides very quick recovery while generating maximum steam.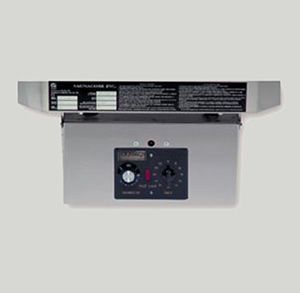 All our sauna heaters come standard with built in heat controller and timer. This is especially popular as bathers can set the temperature in the sauna without leaving. It also makes installation quicker.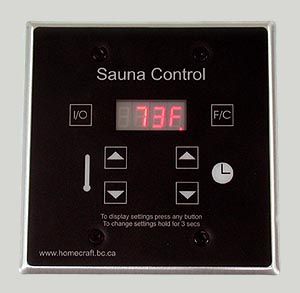 We also offer an optional state of the art digital LED display controllers for more precise temperature and time settings. This low voltage digital control is all electronic, a significant advance in "state of the art" sauna accuracy and convenience. This control runs silently, with tremendous accuracy and reliability.
Here are some of the benefits you get with this new control:
faster hookup because the control arrives pre-wired
precise monitoring of sauna temperatures and time
time and temperature are easily set at the touch of a button
easy conversion from Fahrenheit to Celsius temperature readouts.
touch pad requires only a gently touch to change settings
no G.F.I. required (note: subject to local electrical codes)
silent operation, no noise from a mechanical spring-wound timer.
operates on 24 volts (Class II)
almost unlimited distance can be achieved between the control and the relay box ! (Great for commercial sauna applications)
Yes, we do other sauna heater voltage types for use in countries like Japan, England, Germany, China, etc, etc." Call for details
Sauna Heater Specifications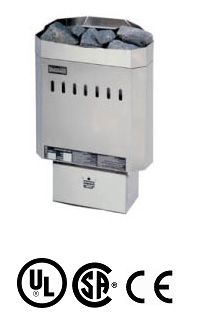 Special Edition Wall Mount Heater - SE
Energy efficient
Wallmount (corner or flatwall)
Entire body #304 stainless steel
Mechanical controls included
Industrial low-density silver soldered
Incoloy elements
Heat deflector
Vented body design
Limited lifetime warranty
Three physical sizes:
2000 w to 3000 w - 15"w X 23.5"h X 6"d
4000 w to 6000 w - 15"w X 23.5"h X 10"d
7500 w to 10500 w - 18"w X 27.5"h X 12"d
220-240 VAC power