Outdoor Barrel Sauna - The King of Outdoor Saunas!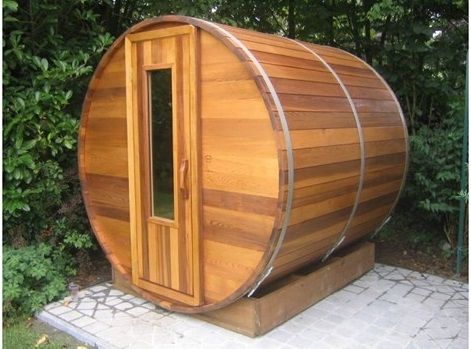 Through Computer Aided Milling and Computer Aided Design we take the time-tested art of barrel making to the extreme to ensure absolute accuracy. Our outdoor saunas require no specialty tools to assemble. All boards are precut to their exact dimensions, making assembly easy even for the not so handy.
The unique circular outdoor sauna design provides a much superior heat/steam circulation versus square or rectangular rooms. The 1 ½" thick cedar provides a natural insulation barrier for heat retention while still allowing the sauna to breath. With a circular design there is 23% less area to heat compared to the same size box style sauna.
Our cedar barrel saunas are the largest in the industry. We make them a full 7' tall x 7' long for extra interior space and height, and include 2 bench seats for its modular design, it can be assembled and disassembled very quickly. The Prefab Sauna design uses the same cooperage ball and socket design that we have become famous for, and uses no screws. A set of brushed stainless-steel straps set this indoor sauna apart from the rest!