Outdoor Barrel Sauna - The King of Outdoor Saunas!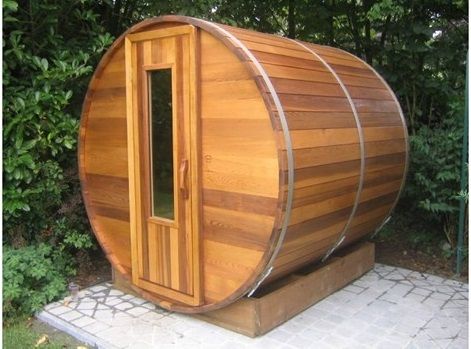 Through Computer Aided Milling and Computer Aided Design we take the time-tested art of barrel making to the extreme to ensure absolute accuracy. Our outdoor saunas require no specialty tools to assemble. All boards are precut to their exact dimensions, making assembly easy even for the not so handy.
The unique circular outdoor sauna design provides a much superior heat/steam circulation versus square or rectangular rooms. The 1 ½" thick cedar provides a natural insulation barrier for heat retention while still allowing the sauna to breath. With a circular design there is 23% less area to heat compared to the same size box style sauna.
Our cedar barrel saunas are the largest in the industry. We make them a full 7' tall x 7' long for extra interior space and height, and include 2 bench seats for its modular design, it can be assembled and disassembled very quickly. The Prefab Sauna design uses the same cooperage ball and socket design that we have become famous for, and uses no screws. A set of brushed stainless-steel straps set this indoor sauna apart from the rest!
Clear grade 'A" Western Red Cedar is the perfect choice for any outdoor application and is long been the premier wood for sauna construction.
Northern Lights Cedar Saunas supplies only two sizes of outdoor saunas 7' or 8'. Perfect for family and friends! They can seat up to 8 persons, with two benches each with a different height to meet everybody's needs. The 7' height provides lots of head room and is the tallest in the industry!
We use 3 x stainless steel straps (304L grade) to prove a solid structure support with no chance of the staves warping. Stainless-steel is much more expensive but will never rust or oxidize the cedar wood.
Our doors are pre-hung using "clear" Western Red Cedar. The doors are fully insulated and come with real brass hardware. Our tempered glass door option contains a double pained high heat, tinted glass window.
Our milling design uses two separate joints; a canoe joint for the staves and T&G joint for the walls giving superior strength and rigidity.
Available in in either Canadian/US (230VAC/60Hz) and European (220VAC/50Hz) supplies and codes with optional wood fired sauna heating systems.
Pressure treated 2" x 10" cradle supports the sauna solidly.
Bi-level seat structure allows for different seat height levels, great for kids or cooling off! All seats are made from clear Western Red Cedar and are hand sanded to provide a sliver free comfortable finish. Cedar is the wood of choice as it does not heat up like other woods. Even at high temperatures the seats will not get hot.
High quality energy efficient electric sauna heaters designed specifically for our saunas using 100% surgical stainless steel inside and out. These heaters are available in 6.0 kw or 7.5 Kw for colder climates and come with a lifetime warranty.
Optional Digital controllers.
Detailed assembly instructions with illustrations and photos as well as an operating manual, help make installation of our outdoor saunas simple.
All outdoor saunas are sold in kit form for easy transportation. Our Prefab engineering makes it easy to assemble even for the "not so handy" using a few basic tools such a wrench and screw drivers.