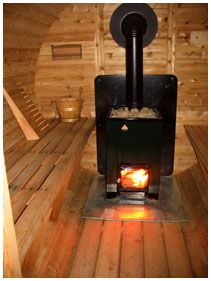 Traditional Wood Fired Saunas
Wood fired saunas offer warmth, a pleasant sauna experience, and the additional advantage of fragrant wood in your sauna. Many sauna enthusiasts find that wood fired saunas are not only the most traditional forms of saunas, but actually offer many advantages over electrically heated saunas. Among the many advantage of wood fired saunas are:
Beauty: Wood fired saunas are heated by heaters filled with wood. In many cases, these heaters have special heat-resistant windows which allows sauna users to view the wood fire inside the heater. Relaxing in the sauna while watching a crackling fire in a heater is considered by many to the ultimate relaxing and soothing experience. The benefit of seeing the beauty of a wood fire adds to the relaxation and the pleasure of sauna bathing.
Convenience: With no reliance on electricity, you can have wood fired saunas installed anywhere, even in remote areas where electricity is unreliable or unavailable. If you decide to have your sauna installed outdoors, wood fired saunas can be an excellent option since they do not require that you run gas lines or electrical wires to the sauna building
Low cost: If you live in an area where your utility bills are high, wood fired saunas heaters can add up to significant savings, especially if you are able to get firewood at a low cost. If you live in an area where utility bills are high, wood fired saunas can be an ideal solution.
Fragrance: Many sauna enthusiasts are fans for wood fired saunas because of the gentle smell of wood burning that wood fired saunas produce. By using apple wood or other fragrant wood, you can add a natural aromatherapy or relaxation component to your sauna through scent.
Tradition: The first saunas were fueled by wood fires. Even though saunas have come a long way since then, many sauna enthusiasts are purists and enjoy the long tradition of saunas by using wood fired saunas.