Outdoor Sauna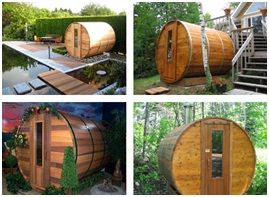 An outdoor sauna is considered by most sauna aficionados to be the purest form of a sauna. It dates back to the Finnish roots of sauna rooms that were always outdoor and fired by wood. An outdoor sauna brings with it the colder exterior temperature that the purist uses to heat and cool the body. And if you are really lucky, an outdoor sauna will be within running distance to a lake or a pool for a full body plunge before running back to warm up. This hot and cold emersion is said to create a stronger circulatory system, but caution should be used and you should consult your physician before trying this ritual.
Outdoor saunas are predominately fired by wood as the typical outdoor sauna may be larger and require more heating power that a wood fired hot tub heater can provide. A wood fired heater can be placed outside the sauna and wood is loaded from the exterior or it can be placed inside the sauna and wood is loaded from internally. It is a matter or preference. Generally interior heaters have a glass window which allows the bather to see how the fire is burning as well as to shed a soft light inside the outdoor sauna room without the need for electricity.
When building an outdoor sauna there are two main styles on the market, the cabin/shed style or the barrel saunas. The cabin sauna requires a much higher level of carpentry as it requires framing exterior wall, and roof trusses, also finishing both the outside and inside of the room are needed and finally some roofing experience is needed. When done you will have a small square or rectangular room that looks like a mini cabin. A barrel sauna on the other hand is much easier to assemble and the walls of the sauna form both the frame, exterior, and interior walls as well as the roof. The outdoor barrel sauna is architecturally stunning and can save you on total construction cost. When looking for a sauna room always consider the roof height. Ideally the internal height should be 7', smaller 6' saunas are available, but you may risk the feeling of claustrophobia.
Outdoor Sauna Material
Traditionally all outdoor saunas were made from local logs and timber, so the construction of a sauna room was determined by the availability of local wood. The three main wood choices were popular (Aspen), Pine and Cedar. Cedar is by far considered the best wood for sauna construction, but you will pay a premium for it. However, over the life of a sauna room, cedar will hold up to the harsh environment the best especially in outdoor saunas. An outdoor sauna has both a harsh interior that must withstand high temperatures when in use as well as extreme cold when not being used. The outside must withstand rain and harsh sunlight. For these reasons we recommend cedar as it has natural oils that make it resilient to moisture and decay as well as can equally withstand hot climate environments.
Whether you choose to invest in an indoor sauna room or an outdoor sauna room, you will not lose! Sauna rooms are shown to have a positive return on investment similar to kitchens and bathrooms! If you have the room outdoor nothing is better than an outdoor sauna!