Indoor Saunas - Pre Fab Saunas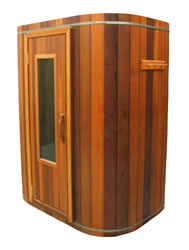 Our modular Indoor Sauna or also know as Hybrid SaunaTM use both a convection heater & infrared heater to provide the most effective indoor sauna heating room on the market. This indoor sauna is ideal for 2-4 person's and because of its modular fabrication design, it can be assembled and disassembled very quickly. The Pre-Fab Sauna design uses the same cooperage ball and socket design that we use in all our barrel saunas and uses no screws. A Set of brushed stainless-steel straps set this indoor sauna apart from the rest!!
Grade "A" Clear Western Red Cedar
Optional Carbon Fiber Infrared Heaters
Sauna Light with interior on/off air switch
Brush Stainless-steel Straps
Hand sanded adjustable seats
Modular design for quick assembly
Wet or Dry sauna indoor sauna
Insulated cedar glass door
CSA, UL and CE certified heaters
Most effective health sauna on the market!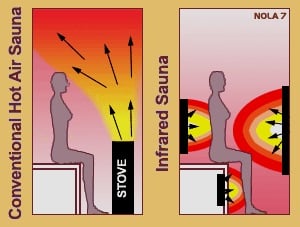 Hybrid Indoor Sauna uses the benefits of infrared sauna heaters to directly heat the body while the convection heater causes the surrounding air to be heated. The radiant heating + convection heating warms the sauna bather and cause the body skin temperature to rise much quicker that both types of sauna methods would on their own. Optionally by adding steam to the rocks the sauna bather will further increases the humanity causing the bodies pores to open and sweat profusely.
A Hybrid SaunaTM will accomplish the same healing benefit of tractional saunas or infrared sauna in about 1/2 the time.
Indoor Sauna Seats 2-4 person
100% Clear Western Red Cedar from Canada 1 1/2" thick!
Carbon Fiber Infrared panels for deep body tissue penetration
Regular Finnish heaters to maintain ideal sauna temperature
Can be used as a dry indoor sauna or a wet indoor sauna
Quick modular assembly