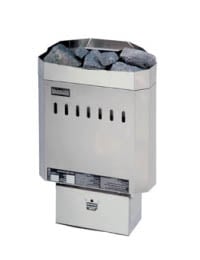 Electric Heater
Our sauna stoves are manufactured in Canada! We use Stainless steel heater housings to deliver long-term satisfaction to our customers, (no pre-painted steel used here!). Did you know different grades of heating elements are offered by different manufacturers? We use only the very best elements. More expensive? Yes, slightly, but the benefits are worth it.
Our electric heaters come with special sauna rocks that are designed to store the heat. Their large surface area provides very quick recovery while generating maximum steam.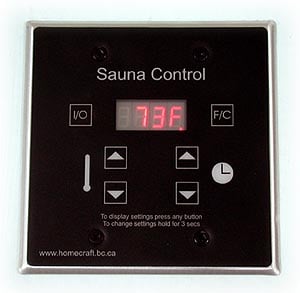 Our heater controls come with state-of-the-art digital LED display for more precise temperature and time settings. This low voltage digital control is all electronic, a significant advance in "state of the art" sauna accuracy and convenience. This control runs silently, with tremendous accuracy and reliability. Here are some of the benefits you get with this new control:
Faster hookup because the control arrives pre-wired.
Precise monitoring of sauna temperatures and time.
Time and temperature are easily set at the touch of a button.
Easy conversion from Fahrenheit to Celsius temperature readouts.
Touch pad requires only a gently touch to change settings.
No G.F.I. required (note: subject to local electrical codes).
Silent operation, no noise from a mechanical spring-wound timer.
Operates on 24 volts (Class II).
Almost unlimited distance can be achieved between the control and the relay box ! (Great for commercial sauna applications).
Yes, we do other voltage types for use in countries like Japan, England. Germany, China, etc, etc." Call for details.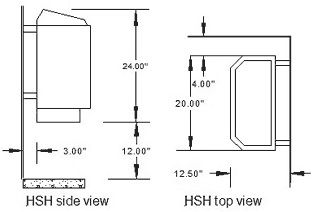 | Heater model | Minimum ceiling height | Cubic room size | Watts | Volts | Phase | Circuit Breaker | Wire size 90 degree copper | Required Heater Control |
| --- | --- | --- | --- | --- | --- | --- | --- | --- |
| HSH 6 | 78 inches | 250-300 ft | 6,000 | 240 | 1 | 40 | 8 | TK |
| HSH 7.5 | 78 inches | 300-370 ft | 7,500 | 240 | 1 | 40 | 8 | TK |
| HSH 7.5 | 78 inches | 300-370 ft | 7,500 | 208 | 3 | 30 | 10 | TK1 |