DIY sauna Kits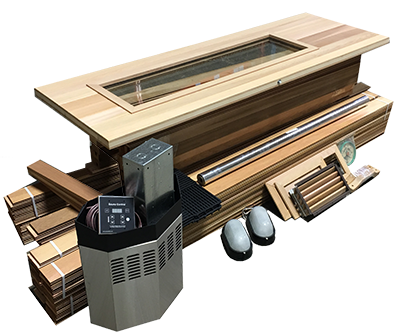 DIY Sauna Kits are the most economical way to build a sauna room. A DIY (Do-It-Yourself) sauna kit contains all the materials you will need to build a beautiful sauna room, as well as a detailed construction manual to assist you with your project. However, a DIY sauna kit requires a pre-framed room which is not part of the kit. Having basic carpentry skill is a must to build a sauna room using a DIY sauna kit. You will also need to have access to some basic tools such as a table saw or a skill saw as well as level, and electric drill. If you are not too handy or are thinking of hiring a contractor, then you might want to consider a Pre-Fab Sauna Room instead of a DIY sauna kit as this will be much easier to assemble and require virtually no carpentry skills.
DIY sauna kits come in a variety of sizes to complete your project. Generally, you order the material size based on the rough frame size of your room. If you are building a room that is say 6' 5" x 5' 9" feet then you would order up to 7' x 6' foot sauna room. Most DIY sauna kits come with enough wood to frame a room that is 7' high and includes wood for the ceiling. It is not recommended to go higher than 7' so even if you have 8' or higher ceilings, you should always drop the ceiling to 7' or less. Remember heat rises and as such minimizing the ceiling height will allow more useable heat and cost less to operate.
When you choose to go with a DIY sauna kit you have full control of the project. You can specify the seating design including popular "L" shaped seats, as well as you can determine the exact door location and heater position. Ultimately you gain the satisfaction that you created your own custom sauna room.
Choosing the wood type – When building a sauna room, you can choose any type of wood. Cedar, pine or aspen are common choices. However, you should definitely look for the best wood. We only sell cedar-sauna-kits as cedar is considered the best wood for sauna construction. Stay away from knotty woods that will warp and twist as well as cheaper "Chinese" Hemlock sauna wood.
When choosing a DIY sauna kit you will usually be sold a sauna heater that is recommended to properly heat the cubic feet of the sauna room you are constructing. You will also choose between a built-in controller that sits on the sauna heater and a more advanced digital controller that will be mounted outside of the sauna. The digital controller will require some advanced wiring and will generally cost slightly more.
When planning your sauna room, you should consider the electrical requirements you will need based on the recommended heater size. Most sauna rooms will have a dedicated wire running from the breaker to the sauna. If your breaker is already full then you may have to go with a smaller sauna room so that the heater capacity is reduced. As an example, a 3 Kw heater will require 15 Amps and a 9 Kw sauna heater will require 40 Amps.
It is always recommended to start a DIY sauna room from the studs, do not build a sauna room over exiting drywall as the drywall will absorb moisture and ultimately become moldy. Also don't forget that you will also need to finish the outside walls. This can be done to match the rest of the exterior rooms such as drywall or you can choose to finish it matching wood used in the interior.