Northern Lights Cedar Saunas
Email:
sales@cedartubs.com
Ph: 1-800-759-8990
Europe: +32 32487611
UK: +44 01325260191
Cedar and Barrel Saunas
Northern Lights Cedar Saunas & Hot Tubs manufactures the world's finest quality of Cedar Saunas using top Grade "A" Clear Canadian Western Red Cedar. Our cedar barrrel saunas are made standard at 7' Interior diameter for proper head room and max comfort. The wood we use is 1 1/2" thick for all our sauna walls. Our sauna heaters are made of surgical stainless steel with a limited life time warranty! We believe in "Quality Sells", and as such our barrel saunas are crafted from the finest materials!
We started our company as a small family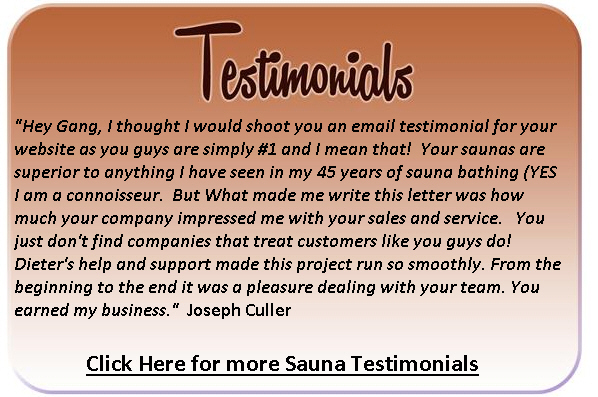 business and continue this tradition by working with each customer individually! Our passion for detail and quality creates a sauna that will last 20 plus years. Our cedar sauna products are found all over the world. From Iceland to Australia customers love our Indoor Saunas. Though our distributor network you can find a Northern Lights Cedar Sauna close to you. Give us a call 1 800 759 8990.
Here at Northern Lights, home saunas are a way of life. We know the benefits of a sauna! A barrel sauna is a place to relax and enter a state of calm serenity. We all know the health benefits associated with taking regular saunas because we as owners use our sauna rooms daily! WET or DRY..... Our home saunas can be used with water to enjoy a wet humid steam sauna or without water for a dry sauna. We also have a
optional infrared sauna heaters for those that prefer Infrared sauna rooms.
Our Sauna Rooms come in ready to assemble packages however they are pre-engineered such that most of the work is done for you. A home sauna can easily be assembled in under a day. If you need a home sauna of any type whether it is a barrel sauna or a basic sauna room, we can get it to you. Our sauna rooms come in both UL certified 220 VAC 60 Hz systems for North America or CE certified 240 VAC 50 Hz systems for Europe and Asia.
Our staffs is expert in all types of cedar saunas from traditional Finnish saunas, to Outdoor Saunas, including wood fired saunas as well as the growing popularity of infrared sauna heaters. We also have a great selection of barrel saunas, round saunas and DIY sauna kits! We offer multiple heating choices including electric saunas, wood fired saunas heater and IR sauna heaters. Call us and let us help you select a sauna room that is right for you! We will advise you on what type and size is best suited to your needs.
Dan Jung - President
Recent Blogs
Feb 20, 2014
Message: We have an existing gas sauna but have had too many problems with it. Is it possible to turn it into an infrared sauna? Da
Read More...
Help Desk Software