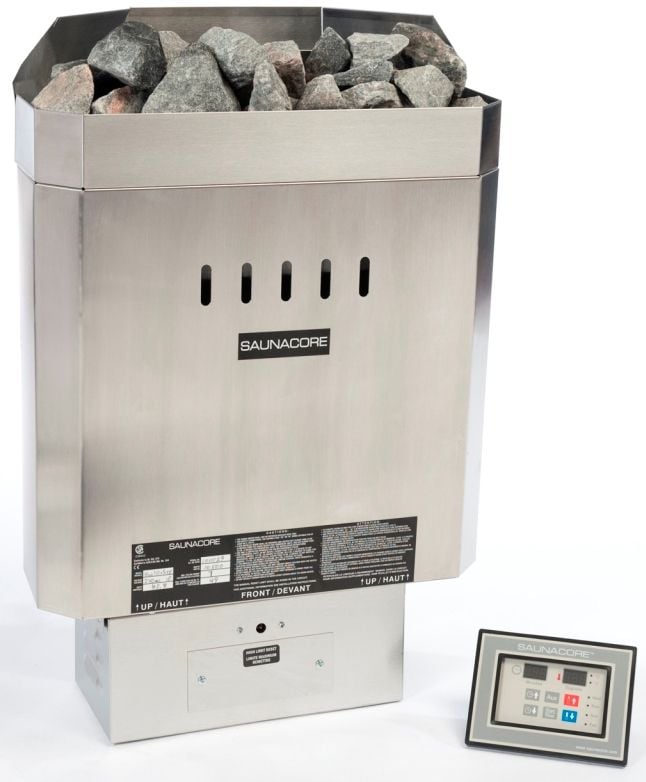 Features:
Extreme Performance & Unsurpassed Quality
Precisely engineered baffled shell construction provides enhanced air flow for quicker heat-up time.
Heat deflector surrounding rock tray directs heat into sauna, where others heat directly upwards over heater.
Extremely well-ventilated body construction. (see 'top view' photos) Cold air at floor level is sucked up from the open underside of the heater and flows through the hot rock compartment, creating the air convection method motion throughout the sauna.
Most versatile sauna heater, can be mounted on a straight wall or in a corner.
Industrial Incoloy (800 series) heating elements, and Low Watt Density Incoloy (800 series) heating elements. More durable than copper and stainless-steel elements. (Varies depending on model)
Built-in high temperature safety cut-off.
100% stainless-steel construction, including shell, inner baffles, frame and rock tray. Same metal used in the medical and nuclear field. One of the purest metals (specific models)
Exterior stainless-steel body in brush finish
Best warranty in the business.
Ultra long-life elements.
Deep rock tray, large capacity.
Dependable and energy saving.
Built using the finest materials and reliable design for use in demanding sauna environment.
Silver solder heating elements prevent moisture from getting into the elements because solder seals element tubing to mounting bushings.